FREE 29 Tips to Transform Your Running eBook
Dear Marathon and Half Marathon Runners!
Greetings from Boston, MA. It's my pleasure to present to you with another free Marathon Nation resource: 29 Tips to Transform Your Run!
To download your copy of this free, 50-page guide now, please click the image or sign up using the form below!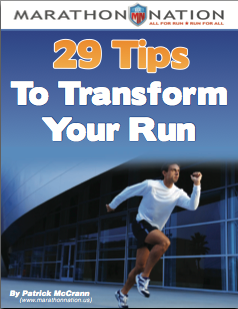 What's this FREE eBook all about?
Imagine being able to take a 360-degree approach to your running.
You'd be able to implement quick fixes to get your form in alignment…
You'd have a resource for motivation when there's no "spark" in your workouts…
You'd be empowered to share your running with others and "pay it forward" to spread the goodness of what you've got.
This isn't some magical formula…it's a collection of tips cultivated over years of coaching runners to their personal and physical bests. And now it can be yours for free!
What Are the 29 Tips?
Changing your run is something that happens on many levels: mentally, physically, emotionally…even spiritually. Regardless of the level at which you run, at the end of the day changing your run means actually changing how you run. The enclosed tips should help you make this change from any one of a variety of different directions. Some involve making specific changes to how you run. Some of them involve changing where you run. Some of them involve changing who you run with, and some of them hope- fully will challenge you to think about why you run. Taken as a whole, this set of tips will hopefully guide you to a place where you will become an improved and more mindful runner.
Why Not One Tip?
There is no one magical tip. If there were, the title of this book would be a little different! That said, one of these tips will most certainly reach you more than the others. Be on the
lookout for that experience, and capture it. This is the true starting point to transforming your run.
Download Your Copy Today
Simply enter your email below and you'll have the chance to start improving your running in less than five minutes!
Want To Learn More?
These tips are just part of how we approach marathon training and racing inside Marathon Nation. You can create a free two-week trial anytime on our Join Page. It's also a good idea to become a fan of the official Marathon Nation Facebook Page so you are totally up to date with our latest and greatest content!
Want to Spread the Tips Around?
This eBook is free. And it's intended to inspire like-minded runners to re-create their running style and passion for the sport in general.
If you enjoy this eBook, please share it with your friends, family, and anyone else within your sphere of influence. If you are web-savvy, please provide a link back here and leave the report unaltered.
Here's the link to use:
http://www.marathonnation.us/?p=763
Lastly, this report is in PDF format and therefore should work perfectly within Adobe Reader or any other reputable PDF viewer. If you encounter problems please send us a note.
Thanks and hope you enjoy the report!
~ Patrick