2014 Boston Marathon Race Report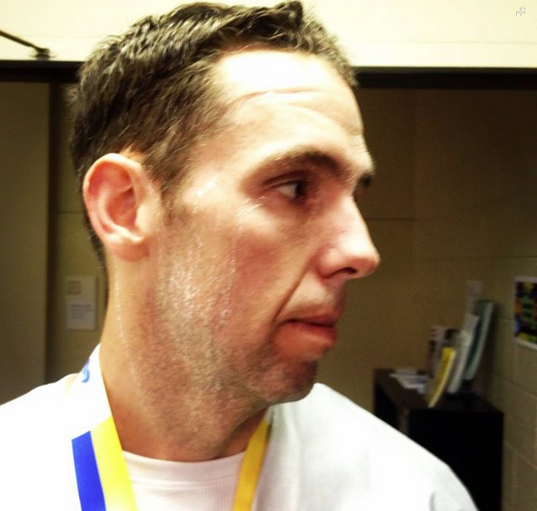 In what was part of my comeback trail, the return to Boston was an event I've been looking forward to all year. I got it done, but it wasn't pretty. Note to self — I definitely need to do a better job of learning to respect the marathon distance.
I ended up running a 3:21, which seems about fair on the day. In retrospect, I should've started off at 7:30s instead of running low sevens. While this is my slowest ever Boston finish, it is definitely one of my most satisfying races. Very excited to have this event by me and behind the city. Read on if you want more details.
The Training
In the past I have run Boston either off of a full season of triathlon, or with some serious run preparation. This time I did neither, as I'm on the recovery trail from my broken collarbone and double surgery of 2013. I also decided to kick off this year with my 40 miler on my 40th birthday which was great for my endurance…but not for race speed.
After a week of recovery, I roughly had five weeks to Boston. During this time I held my runs pretty steady and was looking to see some speed come back. Fortunately, things started to look pretty good in the last 7 to 10 days. I was finally getting my cadence back to where like to be.
However this is only the beginning of what I would call "race speed." Instead of spending several weeks honing my effort at this pace, I only just discovered it before the event. Unfortunately, I decided to follow those feelings vs what the numbers from my training told me when I decided upon my pacing plan for the day.
Race Morning
My favorite part about this race is how it's such a community factor for everyone who runs. The last couple weeks of training was great, connecting with my friends and doing some long runs together. Even the trip up to the race itself was fun, reminiscing about our workouts and last years event.
Part of the tradition involves heading up to the race start in Hopkinton. Our friend has a house there, and it's chock-full of runners of all ability levels. Again, great time to connect and reflect on the past year.
As I left the house, I realized quickly just how hot it was getting. I decided on the spot to get rid of my base layer as well as to not put on my calf compression sleeves. Both were excellent decisions, but neither would help stave off the true effect of the heat in the race.
I headed down to the race start about 9:20 and immediately it was clear that security was on high alert. I made sure to say thank you to as many of the first responders as possible. It was hard to do, because there were just so many of them. I've never seen so many police officers, National Guard, soldiers, you name it. But I've also never felt so safe as well.
After the national anthem they had a flyover from several helicopters…and then the race was underway.
My Race Plan
Knowing that the first 4 miles are pretty steep downhill, my plan was to go out at an easy pace..let the numbers be a little fast before settling into something comfortable. I was guessing that I would probably sit around 715. This is based on the past few workouts before the race.
Nutritionally, I was going to take three caffeinated gels the 30-minute marks before transitioning over to Cliff Bloks with sodium.
The Early Miles
Ever since my 40 mile run, I have noticed that it takes me about 20 to 25 minutes to really listen up. As such, I didn't put any pressure on myself early on. I just dialed in a take-it-easy pace and kind of stuck with it. Eventually the numbers started to point down around 710.
This all very manageable early on and as it was still relatively shaded — I wasn't feeling the effects of the heat. I was very diligent with the nutrition making sure to drink Gatorade at every single a station. I never missed one.
I felt pretty easy going all the way through mile 10, and that's where things start to get a little wonky.
The Body of the Race
Just about mile 10 I started to realize how thirsty I was, and how the aid station seem to be further and further apart — even though they clearly weren't. I also so it's a notice that my quads are tightening up, a phenomenon that I had felt last year around mile 15 was already having an effect on me. I'm not a very good downhill runner, and my quads get fatigued very easily. This year was no different, in fact I think it was actually worse than usual.
Rolling through the midpoint of the race on the way to see my family, things were quickly becoming work. I felt fine going uphill run the flat, but as soon as I started to go downhill things just didn't feel right. My pace was still relatively strong, it wasn't coming easy.
I virtually had no momentum, and almost had to push myself down the hill. When I saw my family at mile 15, I let my wife know that the rest of the race is going to be a little bit rougher than I'd hoped.
By this time I was hitting every aid station like it was my job, taking 2 cups and drinking as much as I could. It still didn't help that cottonmouth feeling which came back almost as soon as I left the aid station.
I did stop twice to pee — once at about mile seven and the second time around mile 16. In both cases it was difficult and I could tell that I was already under the gun from my hydration despite consuming five bottles of fluid the day before and more race morning.
The Hills of Newton
For most runners, this is where the race begin. The hills and represent for the biggest challenges the marathoners will face in their career. For me, this is where my race ended. It was clear that whether I was running up, down, or on the flats, I was in trouble.
My quads were already toast, and this hilly section brought in from pain to my hip and abductors. There was some fine line of a stride that I could run that allow me to keep moving without cramping… But I'm really sure it wasn't pretty.
Looking at my splits, it appears that my average splits quickly drop to close to the eights due to the terrain and my legs.
Without a doubt the saving grace of the day where the incredible crowds. As exciting as the section of the course always is, this year's edition of the race had spectators at least 10 people on both sides and more energized than I'd ever seen before.
If any of you are reading this report, I owe my race to you. Thank you.
The Home Stretch
Before the race started, I was really excited about the final 10K. Historically I've had a really tough time here, and I was hoping that in 2014 will be my chance to break that curse. As you have probably guessed by now, it just wasn't meant to be.
I was forced to stop it ever eat station to drink as much Gatorade as I could, and walk several steps. I probably have never felt so sorry for myself as I did at this time during this race.
Thankfully I was able to use my experience on the course, and the amazing crowds to keep my motivation up. By this point in time I was really not able to digest anything else that I was taking in… So I simply focused on moving forward.
While the finish line was as spectacular as usual, the crowds were so insane all the way from Boston College — there was almost no difference. The energy, cheering, and support was physically tangible.
I rode that wave as far as it would carry me through the final steps over the finishing line being my chance to close the book on the past year and everything that happened.
The Aftermath
Having crossed the line, I spent the next 10 minutes congratulating my fellow runners. The amazing energy that I felt on the course had bubbled over into the crowd of spectators and beyond. Leaving the finish line to meet my family I was stopped and thanked by more people that I can remember. It quickly became clear to me that this race, this year, was just as important to me as it was to the city and the people of Boston.
While there's no doubt that I earned the finishing time you see next to my name, those numbers don't tell the real story about how the day went down and what I experienced. To everyone who ran I say congratulations. To everyone who supported us, I say thank you. To everyone else, I say…I hope to see you in Boston next year.
#bostonstrong
The Details