Boston Marathon Qualification: How to Hack the System to Plan Your Best Qualification Effort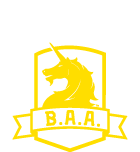 While registration information is up in the air for the 2014 Boston Marathon a few things are very certain. First, the 118th Boston marathon will be held on April 21, 2013. And second, after the tragic events of this past year, gaining entrance will be exceptionally hard for the event.
The Boston Marathon already has very stiff qualification criteria in place to ensure that the field is top-notch (view the criteria here). Due to registration limits that had left some qualified athletes unable to register, in 2012 the BAA initiated a pre-registration process that favored the fastest times within each division.
If the qualifying time for your division is 3:10, for example, but you ran a 2:53, you received a priority registration opportunity. In other words, you could register before someone who ran a 2:59; they in turn could register before someone who ran a 3:09. There were specific "windows" for these pre-registration waves, but overall the process went smoothly.
However, people who had qualified for Boston were still locked out as the amount of delegated spaces for the race had filled within a few hours of "open" registration — by open I am referring to athletes who were within the last five minute "window" of their qualifying time.
In other words, achieving the current standard of 3:10 for your age group doesn't automatically gain you entry. At the present time you (1) need to have your qualification solidified by September 1st and (2) need to run at least five minutes faster than your current standard, ideally ten minutes faster if possible.*
*Note: This is based off of the 2013 registration process and could change in advance of 2014 registration. While you absolutely want to have a qualifying time by September, you might not need to be as fast as I am proposing here (but it can't hurt!).

For those of you looking to qualify for the 2014 edition of the race, you have just over seventeen weeks to lock in a time that will do the trick. Here's how I suggest you do it.
Step One: Determine Your "True" Qualification Standard (BQS)
Below you will find the table of qualification standards as of April 2013 for the Boston marathon as posted by the Boston Athletic Association. They were adjusted in September 2012 to make qualification a bit more challenging and to keep the numbers of participants somewhat constrained.
Current Boston Marathon Qualification Standards
But, based on the current registration process and overall level of interest in the Boston Marathon, you need to be faster than the times listed above. Here is a breakdown to help you select your target time:
Excellent Registration Delta = Subtract 10 minutes from the current BQS.

Above Average Registration Delta = Subtract 5 minutes from the current BQS.

Average Registration Delta = Stay at current standard.
As an example, a 53-year-old woman looking to lock in her changes to register should target a 3:50 qualification time or better by September 1st.
Step Two: Identify The Gap Between Your Desired BQS and Your Current Fitness
This is where the rubber meets the road; having a number on paper is one thing but linking that number to your current fitness will let you know just how far you have to go in order to be in a position to meet your qualification standard.
Go to the

AttackPoint website

and enter the distance as 26.2 miles and then enter your Desired BQS time.

This will generate a list of predicted race finish times based on your desired BQS, from the marathon time you entered down to a 5k effort.

Find a recent race result–from the last three months–to compare against these numbers. We use races as they are an accurate reflection of your running speed.

Do the math between the two numbers to determine exactly how much work is required to achieve your desired BQS. Here is an example:
Your desired BQS as a 43-year old male is 3:05 (actual standard is 3:15).

You enter that time into the AttackPoint calculator and generate a half marathon time of 1:28:48.

Just last month you ran a 1:30:00 half marathon, putting you approximately 72 seconds of the standard, or roughly 3 seconds per mile off your desired BQS pace.
Adjustment Factors:
If your most recent race result is more than three months old, you should estimate your finish time based on your current level of fitness by adding / subtracting time as required.

This comparison process works best for race results of 10-mile events or longer. If you are comparing to a 10k or 5k result, you should subtract another minute from the 10k result or another 45 seconds from the 5k result listed.
Here is a table to help you determine your BQS pace gap; simply find your actual time gap in the chart below based off of the race distance you are comparing (left column) and then scroll up to find the pace per mile gap.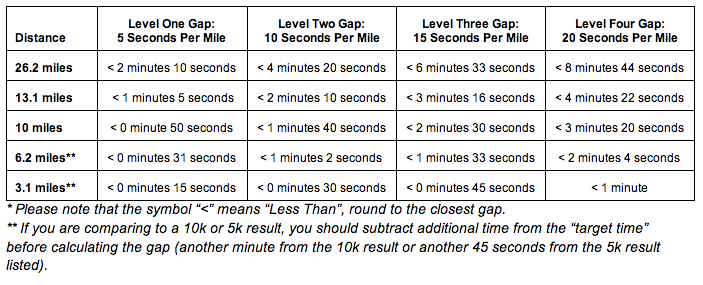 Step Three: Determine Your Proper Training Path
Now that we know what the gap is between your current fitness and your desired BQS, we have to pick the right training path to get you ready for the race.
With a deadline of September 1st to qualify, you only have a set number of weeks to do the training. The sooner you start, for example 5/6/2013, the more time you have to get ready.
And it's worth pointing out that the larger the gap, the more significant your training will need to be in order to be 100% ready for your race.
Block 1 of 4: Two weekly threshold interval sessions in Zone 4 / Threshold Pace. One weekly hill bounding session. One long run at Goal Pace + 30 seconds per mile. Additional runs are less than 45 minutes, at Easy/Steady pace with 6 to 8 Strides at the end.
Block 2 of 4: Same as Block 1 of 4, only include one 13-mile "Race Simulation" weekend run followed by a Day Off.
Block 3 of 4: Two long runs: (1) Wednesday long run done as 60% at Goal Pace + 30 seconds per mile, final 40% of the run at Goal Pace. (2) Saturday long run done as 25% warm up then 50% as alternating 1 miles at 5 seconds faster per mile than Goal Pace, 1 mile at 10 seconds slower per mile than Goal Pace. There should be one 18-mile "Race Simulation" weekend run followed by a Day Off.  One threshold / mile repeat session per week and one VO2 interval session per week. Any extra runs are Strides.
Block 4 of 4: Four weeks out is the final long run with last 50% at or slightly faster than goal pace, two VO2 interval sessions, extra runs are strides. Weeks three and two are two medium length runs with 33% of each run at goal pace. One VO2 session per week; extra runs are Strides.
Workout Explanations
Threshold / Mile Repeats
Typically 45 minute runs including 2 to 3 mile repeats at 10k pace with 50% rest at an easy jog. So run an 8:00 mile interval and you earn 4:00 of rest!
VO2 / Interval Repeats
Typically 45 minute runs including 4 to 6 repeats of 3 minutes at 5k pace with 2 minutes of rest after each.
Hill Bounding
A plyometric or strength workout, not a hill sprinting session. You bound up the hill for 30 to 45 seconds, and then you sprint over the crest of the hill for the final 5 seconds of each interval. Example video here (note there is no sprint in the video).
Strides
An easy run up to 45 minutes in duration; finish with about 10 minutes left in a place where you can run strides. A stride is 20" at 5k pace/effort with perfect form. Ideally you will count 30 single foot strikes in each repeat.
Race Simulation
This is a longer run done as you expect your race to play out. First 5 miles are at Goal Pace plus 15 seconds per mile (so if your Goal Pace is 8:00/mile, you will run 8:15/mile), followed by the remainder at Goal Pace minus 5 seconds per mile (7:55/mile pace in our example). Eat and drink as you will on race day, note how you perform, etc.
Step Four: Find A Complementary Race
Now that you know your BQS Gap and how long you should ideally train to achieve your goals, it's time to find the right race for you. Using the minimum training window determined previously, and with an eye towards your personal budget and life-schedule, review the race options.
Scroll to the bottom of this post for a list of every marathon we could find between now and September 1, 2013.
To find additional marathons, including international ones, continue your search over here on the Marathon Guide website.
Up Next: Prepare to Race at Your Best!
All the fitness in the world won't help you if you can't put together your best possible race. I'll be back next time with more details on proper race execution; in the meantime if you can't wait you can purchase our Marathon Race Guide: Your Best Marathon.
Thanks for reading!
++++ Upcoming Marathon List ++++
June 2013
6/1/2013 Forest of Nisene Marks Marathon Aptos , CA
6/1/2013 God's Country Marathon Coudersport , PA
6/1/2013 Green River Marathon Kent , WA
6/1/2013 Newport Marathon Newport , OR
6/1/2013 Sunburst Marathon South Bend , IN
6/1/2013 The North Face Endurance Challenge – Washington DC Sterling , VA
6/1/2013 Timberline Marathon Government Camp , OR
6/2/2013 Casper Wyoming Marathon Casper , WY
6/2/2013 Conquer the Cove Marathon Roanoke , VA
6/2/2013 Deadwood-Mickelson Trail Marathon Deadwood , SD
6/2/2013 Fallen 4 Marathon Whitecourt , AB
6/2/2013 Indoor Insanity Marathon Winston-Salem , NC
6/2/2013 Marathon de Taos Taos , NM
6/2/2013 Marathon de la Baie Charlo , NB
6/2/2013 Minneapolis Marathon Minneapolis , MN
6/2/2013 Therapeutic Associates North Olympic Discovery Marathon Port Angeles , WA
6/2/2013 Dodge Rock 'n' Roll Marathon San Diego , CA
6/2/2013 Steamboat Marathon Steamboat Springs , CO
6/7/2013 Bear Lake Idaho Marathon Fish Haven , ID
6/8/2013 Bear Lake Marathon Garden City , UT
6/8/2013 Mangum Track Club Boogie Marathon Ellerbe , NC
6/8/2013 Hatfield-McCoy Marathon South Williamson , KY
6/8/2013 Indian/Celina Challenge Tell City , IN
6/8/2013 Marathon-to-Marathon Marathon , IA
6/8/2013 Maryville Marathon, The Chamber Country Classic Maryville , MO
6/8/2013 Run the Caldera Marathon Jemez Springs , NM
6/8/2013 Sandhills Marathon Valentine , NE
6/8/2013 Storm the Dam Trail Marathon El Dorado , KS
6/8/2013 Teton DAM Marathon Rexburg , ID
6/8/2013 Three Sisters Marathon Redmond , OR
6/8/2013 Zions Bank Utah Valley Marathon Provo , UT
6/9/2013 Ann Arbor Marathon Ann Arbor , MI
6/9/2013 Edge to Edge Marathon Ucluelet , BC
6/9/2013 Lake Placid Marathon Lake Placid , NY
6/9/2013 St. Joe River Marathon St. Maries , ID
6/9/2013 Swan Lake Marathon Viborg , SD
6/9/2013 Winthrop Road Marathon Winthrop , WA
6/15/2013 1/2 Sauer 1/2 Kraut Marathon Philadelphia , PA
6/15/2013 Herriman Oquirrh Mountain Marathon Herriman , UT
6/15/2013 Turkey Track Trail Marathon Pagosa Springs , CO
6/15/2013 Paradise Area Chamber of Commerce Whitefish Point Marathon Paradise , MI
6/16/2013 Canton Marathon Canton , OH
6/16/2013 Mama Rose's Estes Park Marathon Estes Park , CO
6/16/2013 Johnny Miles Marathon New Glasgow , NS
6/16/2013 Manitoba Marathon Winnipeg , MB
6/16/2013 San Juan Island Marathon Friday Harbor , WA
6/16/2013 Wipro The San Francisco Marathon San Francisco , CA
6/16/2013 Vancouver USA Marathon Vancouver , WA
6/21/2013 Summer Solstice Endurance Runs Abilene , TX
6/22/2013 XTERRA Big Elk Marathon Elkton , MD
6/22/2013 Grandma's Marathon Duluth , MN
6/22/2013 Keyes Peak Trail Marathon Florence , WI
6/22/2013 Mayo Midnight Marathon Mayo , YT
6/22/2013 Mayor's Marathon Anchorage , AK
6/22/2013 Niagara Marathon Niagara On The Lake , ON
6/22/2013 Rock 'n' Roll Seattle Marathon Seattle , WA
6/22/2013 Run Charlevoix Marathon Charlevoix , MI
6/22/2013 Run4Troops Marathon Dyersville , IA
6/23/2013 Bay of Fundy International Marathon Lubec , ME
6/23/2013 Bellevue Ghost Marathon Bellevue , WA
6/23/2013 UCC Coffee Kona Marathon Kailua-Kona , HI
6/23/2013 HFM Maritime Marathon Manitowoc , WI
6/29/2013 Aspen Backcountry Marathon Aspen , CO
6/29/2013 Leadville Trail Marathon Leadville , CO
6/29/2013 Pacific Crest Marathon Sunriver , OR
6/29/2013 Running With The Devil Marathon Boulder City , NV
6/30/2013 Pasadena Marathon Pasadena , CA
July 2013
7/3/2013 Canadian Arctic Holidays Northwest Passage Marathon Arctic Watch , NU
7/4/2013 Foot Traffic Foot Traffic Flat Marathon Portland , OR
7/6/2013 Freedom Marathon Gresham , OR
7/7/2013 Mad Marathon Waitsfield , VT
7/7/2013 Stars and Stripes Marathon Beaverton , OR
7/13/2013 Running Fit Dances With Dirt Devil's Lake Baraboo , WI
7/13/2013 Grandfather Mountain Marathon Boone , NC
7/13/2013 Waugoshance Trail Marathon Mackinaw City , MI
7/14/2013 Tidal Basin Run Grant-Pierce Indoor Marathon Arlington , VA
7/14/2013 Light at the End of the Tunnel Marathon North Bend , WA
7/14/2013 Missoula Marathon Missoula , MT
7/15/2013 Adventurecorps Badwater Ultra Marathon Badwater , CA
7/20/2013 Aspen Valley Marathon Aspen , CO
7/20/2013 Kendall Mountain Marathon Silverton , CO
7/20/2013 Loonies Midnight Marathon Livingston , TN
7/21/2013 Friendly Massey Marathon Massey , ON
7/26/2013 Somerville Road Runners Around the Lake Marathon Wakefield , MA
7/27/2013 Southeast Road Runners Frank Maier Marathon Juneau , AK
7/27/2013 Grand Island Trail Marathon Munising , MI
7/27/2013 King Salmon Marathon Cordova , AK
7/27/2013 Morgan Valley Marathon Morgan Valley Marathon Morgan , UT
7/27/2013 SOGONAPMIT Marathon American Fork , UT
7/28/2013 Bearfest Wrangell , AK
7/28/2013 Madison Marathon (MT) Ennis , MT
7/28/2013 Nova Scotia Marathon Barrington , NS
August 2013
8/4/2013 Blister in the Sun Marathon Cookeville , TN
8/4/2013 Yukon River Trail Marathon Whitehorse , YT
8/10/2013 Mt. Sneffels Marathon Ouray , CO
8/10/2013 Paavo Nurmi Marathon (USA) Hurley , WI
8/11/2013 Ben's Smart Marathon by the Sea Saint John , NB
8/17/2013 Old Farts Running Club Fallsburg Marathon and Half Marathon Lowell , MI
8/17/2013 Newpark Town Center Resort Hotel Park City Marathon Park City , UT
8/17/2013 Green River Chamber of Commerce Run With the Horses Marathon Green River , WY
8/17/2013 Running with the Bears Greenville , CA
8/18/2013 Big Wild Life Runs Marathon (prev. Humpy's Classic Marathon) Anchorage , AK
8/18/2013 Drake Well Marathon Titusville , PA
8/18/2013 Extraterrestrial Full Moon Midnight Marathon Rachel , NV
8/18/2013 LEADING LADIES' MARATHON Spearfish , SD
8/18/2013 Overlander Sports Marathon Yellowknife , NT
8/18/2013 Pikes Peak Marathon Manitou Springs , CO
8/23/2013 Self-Transcendence Marathon Nyack , NY
8/24/2013 Mesa Falls Marathon Ashton , ID
8/24/2013 North Country Trail Run Wellston , MI
8/24/2013 Silverton Alpine Marathon Silverton , CO
8/24/2013 Wausau Marathon Wausau , WI
8/25/2013 Edmonton Marathon Edmonton , AB
8/25/2013 SSQ Quebec City Marathon/Marathon des Deux Rives Quebec City , QC
8/25/2013 Texada Arts, Culture, Tourism Society Run The Rock Marathon – Canada Gillies Bay , BC
8/25/2013 The Santa Rosa Marathon Santa Rosa , CA
8/31/2013 Grand Teton Trail Marathon Alta , WY
8/31/2013 First National Bank,Powerade, Crankgel Layton Marathon Layton , UT
8/31/2013 Marquette Marathon Marquette , MI
8/31/2013 Portneuf Medical Center Pocatello Marathon Pocatello , ID
8/31/2013 Team Ortho Women Rock Marathon St. Paul , MN
September 2013
9/1/2013 Logan View Raider Run Hooper , NE
9/1/2013 Minocqua Area Chamber of Commerce Minocqua No Frills Marathon Minocqua , WI
9/1/2013 Sunriver Marathon for a Cause Sunriver , OR
9/1/2013 The Kauai Marathon Poipu Beach Kauai , HI
9/1/2013 Tupelo Marathon Tupelo , MS