Free Boston Marathon Qualification Training Advice (No, Really!)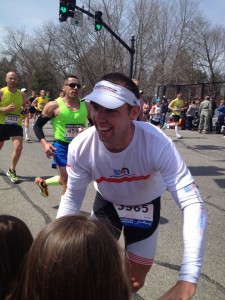 Running the 2013 Boston Marathon was something I was doing more for my family, than for myself. In 2014 I plan on running Boston for the victims of the bombing, and to exemplify the spirit and resiliency of the marathon community.
I hope you decide to join me. In fact, I am going one step further — I am going to give you my best resources and guidance to help you successfully qualify for the 2014 Boston Marathon.
I am calling it The Boston Running Project, and it will have resources for those of you looking to qualify, regardless of the reasons you have for making it to Hopkinton.
There will be two levels, a FREE version and a DONATION version.
The FREE Version…will have a basic training plan, some industry resources / deals and information on how you can raise money during your training cycle.
The DONATION Version…will give you access to:
Private Facebook Group for support

Access to monthly Coach Patrick conference calls

A detailed plan by ability level.

Coach Podcast / Video for each phase.

Race execution information.
I am working on the details behind all of this, with a launch date of Monday 5/20/13 on the calendar. If you are considering a run at qualifying for Boston, you should subscribe to the email list for updates. If you know someone considering Boston, please pass this post on to them.
Thanks for your support!
~ Coach Patrick