Barbara Bond Does a Double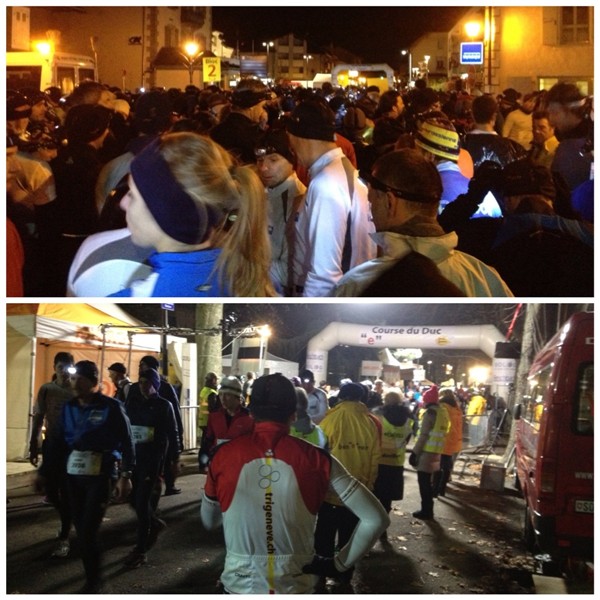 Course du Duc – Nov. 30, 2012
17.5 km
9:16 pm start
The night was cold, about 30F at the start, 10 mph wind gusting to about 20 mph throughout the course.
Very crowded start and generally through the first few miles. Start was extremely slow, 8:35 min/mile pace. From there lots of fun – some good hills, scenic and oddly compelling. At times there was little ambient light so the trail of runners lit by headlamp was surreal-looking and dramatic. Lots of enthusiasm from the spectators who lined much of the course and had torches, fire pits, and various other lighting devices!
Goal was to take it easy, and not "race" and aim for a top 10 finish. Managed a negative split at the end at 7:15 min/mile, my best mile split of the night! Finished 6th in my age group at 1:26 hrs and 76/1225 overall women. Avg pace – 7:40 or so. It was harder than I thought, and running at night definitely gives one the impression of running faster than reality.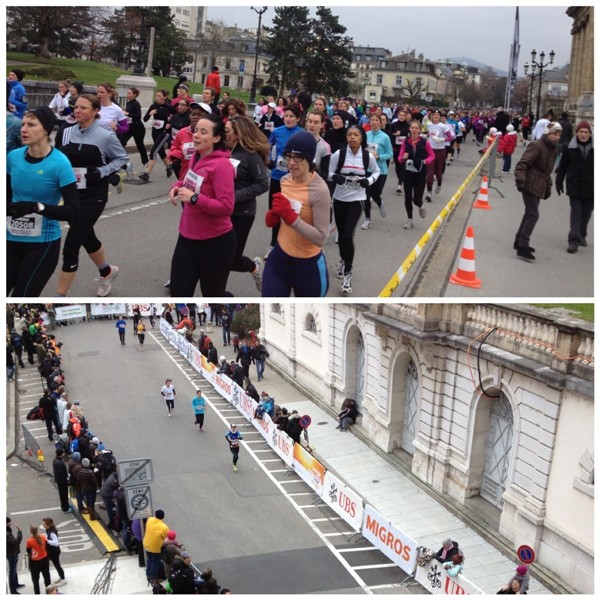 Course de l'Escalade – Dec. 1, 2012
4.787 km (my Garmin said 2.99 miles)
2:45 pm start
The day was cold, no wind, about 33F at the start.
My intention was not to go for a top 10 spot, so I started at the back of the chute. Mistake. The middle-pack runners were so slow it took me some work to weave my way around them, and in such a short race there is no time to waste. Still, managed to work my way up and speed up. Ran three negative splits:
7:44 min/mile
7:12 min/mile
6:41 min/mile. Last 0.2-mile avg was sub-6 min/mile. I was desperately trying to catch the two women in front of me. Another 20 m and I would have had them. I think…
Goal was a top 25 finish. The course is two laps through Geneva's old city. On the second lap I went for it, feeling pretty good (or at least not as bad as I though after last night). Wound up 17th in my age group, which made me happy.
This is the end of a busy race season for me, which began in April with the Boston Marathon. Had a fun year, ran some fast short races and my slowest ever marathon – and am very happy with how it all turned out.