No more vague workouts. Say goodbye to plans built simply around mileage. Eliminate junk miles. Take control of your Marathon training!
Patrick has been coaching marathon runners for over a decade. You will not find a more detailed, realistic Marathon training plan. Get ready for your first, prepare to set a new personal best, or aim for Boston!

There are three distinct marathon training plans available, so be sure to scan all of your options: Couch-To-Marathon, Master Marathon (24 weeks) and Marathon Race Preparation plans.

These are the 2nd edition of our classic marathon plans, built for Beginner, Intermediate and Advanced runners. Interval sets and run distances are adjusted to allow for different ability levels.

Every plan includes Pace and Heart Rate intensity guidance, additional race execution and pacing resources, and online coach support through Facebook and Twitter.

Sample Training Plan Week
Every plan has clear workouts, listed by day in priority order. The workouts are written as Main Set only. There are ample opportunities for recovery and to modify your plan using the included guidance — if needed!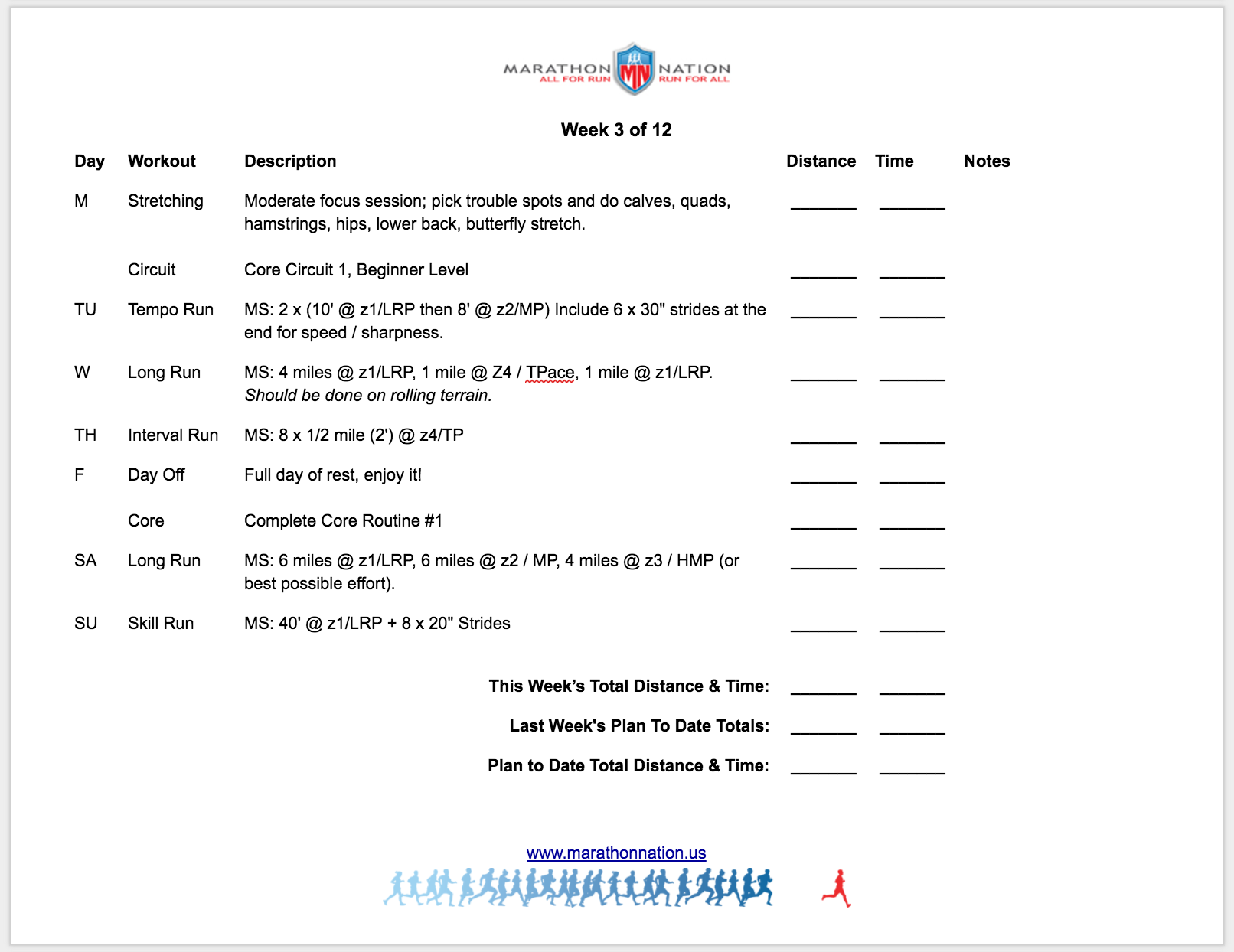 Couch to Marathon Plan (24 Weeks) — Starting @ $37
Running is in the midst of its biggest boom ever — it's probably impossible to find a weekend without a marathon in the continental US. Running is cheap (only need shoes!), it's accessible (just go outside!), it's social (join a club!), and it good for your health…what more could you want?!?! Training for your first marathon, however, is no joke. Whether you are checking items off a bucket list or have been compelled to sign up thanks to a fierce intrafamily rivalry, you still have to train for — and complete! — the full distance.This plan is designed to help you get off the couch and get your training kickstarted!You don't need gadgets or fancy shoes…you need a simple to follow plan that will help you see you progress and guide you carefully to your first marathon finish.Look no further than this comprehensive, six-month-long build up to race day!
Master Marathon Plans (24 Weeks) – Starting @ $37
The Master Marathon plan will take you from baseline fitness through race day. Your first 12 weeks will focus on building the requisite speed and strength required for race day, culminating in an optional half marathon run. Then you'll commence the final push to race day!
Race Preparation Marathon Plans (12 Weeks) — Starting @ $27
If you are a seasoned runner, or you bring some fitness to the start of your plan, you can choose a Race Preparation plan. This plan will guide you over the final 12 weeks to your longest runs as well as quality workouts designed to boost your overall speed.
[bbutton size="large" color="red" link="https://www.marathonnation.us/product/marathon-beginner-level-12-weeks/"]Learn More[/button]

Learn More

Learn More

The Marathon Nation 30-Day Money Back Guarantee
Buy any MN Training Plan and take it for a Four Week Test Drive!
If you aren't getting faster and are unsatisfied, we'll refund you 100%!