The Ultimate Marine Corps Marathon Overview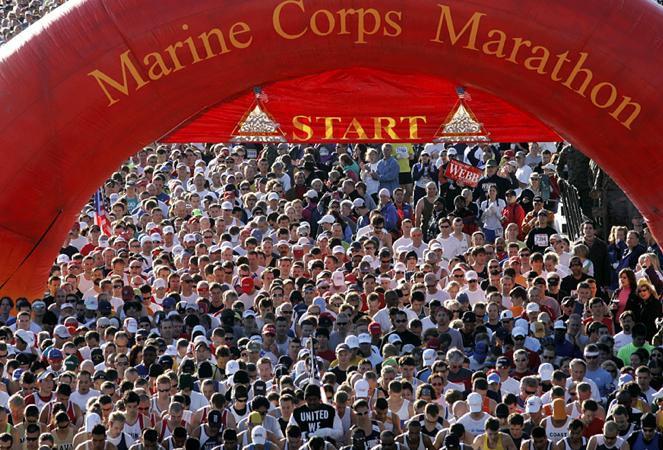 2011 marks the 36th running of the Marine Corps Marathon, another one of the US fall marathon classics. Marine Corps is one of the more popular US events with tens of thousands of avid marathoners making the trip to the Nation's capital for the 26.2 mile journey. Even if you are just running for fun or running to make a difference with one of the many charity partners, getting the inside scoop on the course will ensure you are able to race to your potential. Let's get started!
Race Weekend Logistics
You have to know where you are staying and where to go. Your best bet for all your transportation and logistical guidance is the official marathon website here: http://www.marinemarathon.com/. If it's personal planning and checklists you need, don't forget to download our Race Planner worksheet to make the most of your pre-race planning…it really helps!
Spectator Information
Marine Corps has gone above and beyond the call of duty with support options for the spectators, including a live web map for tracking runners, and even a spectator pacing calculator (PDF). They have a full slate of weekend activities (here) and a great list of "Dos & Dont's" to ensure the race is fun and safe for everyone. Get the full spectator skinny on the MCM here.
Race Expo
Don't forget the expo, one of the high points of any major marathon. Information is here.
Walter E. Washington Convention Center
801 Mount Vernon Place Northwest
Washington, DC 20001-3614

Friday, October 29 9 a.m. – 7 p.m.
Saturday, October 30 9 a.m. – 7 p.m.
Race Information
There's a ton of information on the web about Marine Corps, but here are some of the best links you can use to get ready.
Running on Race Week
Due to the rolling nature of the course, your race week training should be simple yet include some similar terrain. Your goal is to enter every workout feeling rested and exit every session feeling invigorated. If you are feeling fatigue or have a nagging issue, then you had best spend your time resting and preparing for the rigors of race day. There is no extra speed to be had this week, only lost.
Here is a quick sample schedule:
Monday: Off / Yoga / Core
Tuesday: 45 minute run, including 4 to 6 repeats of 1 minute at 5k pace. Alternate 1 uphill, 1 downhill (not too steep!). Recovery as much as needed.
Wednesday: 6-mile run, with 2 x 10 minutes at goal marathon pace on rolling terrain.
Thursday: 45 minute run, including 4 to 6 repeats of 1 minute at 5k pace. Recover as much as needed.
Friday: OFF
Saturday: Short jog of 20 to 30 minutes, include 3 x 1 minute fast with plenty of recovery. Be safe in the city!
Sunday: Race Day!
Pacing Your Race
While the course profile looks challenging (see image below), peak elevation tops out at about 160 feet so you won't be climbing any mountains. That said, running a large urban marathon can present it's own set of challenges. In other words, don't mail in that entry fee to the BAA just yet…you have some work to do!
Dealing With the Crowds

: Do your part by seeding yourself exactly at or slightly faster than your anticipated pace. Ask those around you what their goal times are so you can get a sense of where you are. Getting stuck behind some power walkers is not the way you want to start your day.

Start Smart

: Run slower than your goal pace for up to six miles…goal is about 20 to 30 seconds slower per mile on average. Don't start dashing around and freaking out; use the early miles to build up your speed and remain in control of your day. Starting to chase a time at mile one makes for an incredibly long day…it's an effort that few can sustain.

Focus through Halfway

: The after mile 6, you'll want to dial the pace down to a sustained effort just faster than your goal avg pace (by about 5 to 10 seconds per mile). You are adding focus and diligence as much as effort; this should be comfortable for you until it eventually grows to be quite difficult.
Be Ready to Work: As easy as the early miles are, so too will the final miles be challenging. Know that your pace could slip here if you aren't physically, mentally, and nutritionally ready. Every minute, every mile before the finishing line is a critical step in this process…don't be distracted by the crowds, fans, and Halloween costumed runners.

Marine Corps Marathon Nuances
The following is based on my reading and understanding of the course, and drawn from several resources. Take what works for you and leave the rest for everyone else. If you have any final tips, please share them in the comments below!
The First Eight Miles Are Critical

: It's always tempting to let the legs open up in the early miles of your big race. But Lee Hwy has some terrain changes over the first few miles that could spell disaster for you if ignored. Our advice is to extend the MN "smart" pacing guidance from the first 6 to the first 8 miles.

Early Pacing Specifics

: All about 15 seconds per mile slower, but you'll need to take the hills into account. Read our Marine Corps Marathon Pacing guide here.

Solid Middle Miles

: After Mile 8 you are running down M street and you'll see some faster miles as you head over on Wisconsin, then K, and over to Hains Point. You'll need some fast miles here to account for your early conservative pacing, but the course should treat you well. Beware of winds off the Potomac around Hains Point as they can really put a hurt on you. You'll turn in along the Mall and go around the capitol before you try to "Beat the Bridge" and the timing cut off at Mile 20.

Return to Virgina Ready to Work

: Virgina might be for Lovers, but the last six miles are not for the faint of heart. The road will start to point upwards and you'll feel the hurt settle in. Relish the small dip from Mile 25 to 26, as you'll have a solid climb up at the very end by the Iwo Jima monument.
Got More Tips or Questions?
Please share them with the Marathon Nation community via the comments below or on our Facebook page. Best of luck to everyone racing at Marine Corps and beyond. Have fun, be safe and go FAST!
~ Patrick