Interview with Andrea Moritz, Ultra Marathoner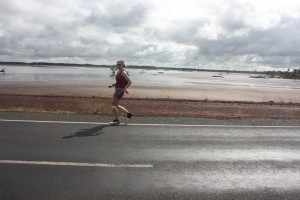 Where are you from?
I am from a town called Remscheid in Germany. It is located near Cologne and Düsseldorf. I currently live and work in Ottawa, Ontario, Canada.
What's your one "key" workout before a big race?
My key workout before long races is a weekend double of 3 hours on Saturday and a 4.5 hours on Sunday. 
How long do you prepare for a given event?
For the longer races, i train for about five to six months specifically.
What do you eat in training & racing?
I eat and drink just about anything, but i try to eat the "bad" things in moderation (i like a good burger and fries from time to time) and the "good" things like fruit, veggies, and fish, as often as possible. But i don't follow a specific diet, but try to eat well. During a race, i eat Honey Stinger waffles and gels, bananas, orange slices, boiled potatoes with lots of salt, and whatever goodies can be found on the race course. I drink water, Gatorade and Coke.

What's the worst race day mistake you've ever made?
My worst race day mistake was not eating and drinking enough. Not only does the body bonk, but the mind starts to go down the road of negativity when the blood sugar drops – and the most important thing in ultra running is a positive attitude. Another stupid mistake I made in the Gambia was to leave the first aid kit in my room. I fell and cut my knee badly and had to run to the nearest hospital for medical assistance. Not my wisest move, but i had been up late the night before to give radio interviews instead of preparing for stage one of my run. Given this was a charity run, awareness building through media was important, but missing out on a few hours of sleep and thorough preparation of all gear and food the night before the start of a big event is not ideal.
What's the toughest injury you've ever had?
The nastiest injury I ever had was plantar fasciitis. It lasted forever and even though I tried every treatment under the sun, I was off running for nine months. And when I finally started running again, I was limping badly after every run for weeks. I have no idea which one of the many things i tried finally cured it, but eventually it did go away.
Where can folks go to learn more about ultrarunning?
The best way to learn about ultra running is to show up for a 50 km race. It is not much longer than a regular marathon, but since race weekends often include anything from a 50 km to a 100 miler, you'll have a chance to talk to many experienced ultra runners who will be happy to share their experience and advice. Ultra runners are usually a very sociable crowd and since many people camp at the start/finish area of a race, there is plenty of time to chat by the camp fire while cheering on those in the longer races. 
What's your next race?
My next big race will be the Six Foot Track Ultra in Australia's Blue Mountains. My flight is booked for March 2013!
If you are interested in learning more about Love4Gambia or should anyone still wish to donate to support children's health education there, visit the web site love4gambia.com.