Running after Boston: One Step at a Time
Like most of the rest of the world, I continue to struggle with processing what happened in Boston on Marathon Monday. In a matter of 15 seconds, two bombs changed my hometown marathon into a global spectacle of terror, tragedy and intrigue.
Even now, with one suspect in custody and the other dead, there is still precious little information as to what happened, how it happened, and why. 
I started running after college because I needed something. I needed focus. I needed activity.
After years of athletics I was on my own…running provided a community and the structure I needed to stay healthy, sane and a productive member of society.
Some people like to run, to exercise. But like me I know that many don't have a choice…it's hardwired into who we are.
Questions surrounding the tragedy of Boston may never be answered in enough detail, but I think our worth isn't measured in finding out what happened as much as in charting a new course given what we know now.
First, we can start by giving to those who need it most.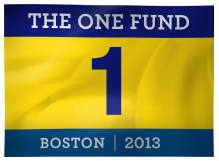 I am so proud of my fellow runners and the global community who have come together to help the victims of the bombing. Between The One Fund (started by Governor Deval Patrick and Boston Mayor Menino) and individual fundraising pages for the victims, millions of dollars have been raised. Here are some of the pages so you can help the cause:
Second, we can support those who are helping to make a difference.
The Boston Athletic Association has partnered with Adidas to make a Boston Strong t-shirt, with proceeds to go directly to The One Fund. You can find that shirt here. There are more options out there, but that's the main way to go…
Third, we can get outside and run.
I think the most important thing we can do is to keep doing what we've already done. We lose when we decide not to be ourselves, to not be runners, to not run.
There are countless events out there across the US and around the world to honor those affected by Boston. You can find them on Facebook or by searching Twitter for #bostonstrong
But you don't have to do all that to do your part. You can just lace up your shoes and head out for a run.
That's what I am going to do.
Only 364 more days until the 118th Boston Marathon. I'll see you in Hopkinton!