Forty Miles Complete! A 40th Birthday Celebration and Fundraiser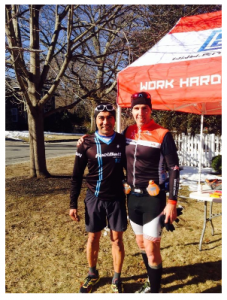 March 8th, my 40th birthday has come and passed…but the pain and stiffness in my legs reminds me that yesterday wasn't a dream: I ran 40 miles. All of this was for charity:water to raise money for a clean water project — we've raised enough to give clean water to more than 225 people — but you can help us do more by donating something — anything– to the cause or by helping to spread the word: http://my.charitywater.org/all-i-want-for-my-40th-birthday-is-water  (Thanks!!)
The Day
Simply couldn't have asked for better weather! Despite freezing cold conditions all winter, it was sunny and eventually got up to 55-degrees. Unbelievable…clearly someone was smiling down on me.
The Route
This was a simple 5-mile loop that started from my house. While the roads weren't in great condition — and the ice melt filled the roads with puddles — I was generally really pleased. There were a few slight rolling hills in the first 2 miles. Then we transitioned to a 1/2-mile segment of dirt road running. Then it was onto the bike path for over 1.5 miles before turning to a false flat home.
Honestly the hardest part of the day was running on the snow and ice that filled a few of the shadier parts of the bike path. But the change in speed / terrain was worth it.
The Support Crew
I can't say enough to everyone who helped make this happen. What was a crazy idea over a year ago had turned into a distant dream after my multiple surgeries last year and extended layoff.  And then the comeback trail was more off road than straightforward. But I couldn't have done it without these folks:
* FuelBelt (www.fuelbelt.com)
The awesome folks at Fuelbelt HQ have been helping to fuel my workouts since my first Ironman in 2001. They have stuck with me through it all. With a surprise birthday burrito for pre-run fueling to enough race day nutrition to support a local 5k — these guys get endurance sports and are just as focused on being an industry leader a they are with supporting the real grassroots of our sport and lifestyle. There is no completion in the hydration space — FuelBelt all the way!
* Mike Silva & The Foundation Performance Team (www.foundationperformance.com)
Mike started 2013 with me planning on how to make "Patrick 2.0" — bigger, faster, stronger. Then I crash my bike and we spend the next 5 months, before / after multiple surgeries, putting my pieces back together again. Mike is not only an excellent physical therapist, but his staff are very smart and capable as well and the facility is also top-notch. I hope you never need physical therapy, but if you do, there's only one place to go in RI (and now southern MA): Foundation Performance.
* Ellen McNally @ Chiropractic Performance Center (www.chiropracticperformance.com)
Ellen is my go-to check in person to make everything is in alignment…which it usually isn't.  In addition to helping me with ART and kinesiotaping, she recently added Mike to her staff to make sure I do all of my stretches properly. A fantastic resource for active people in RI!!!  (Side Note: She also works at Titleist for all you golf freaks out there.)
* Richard Johnson @ The Proper Fit (Fall River, MA — 508) 672-0334)
Richard not only is one of the funnier guys you'll meet, he's a living walking breathing encyclopedia of running shoes. He has helped me transition to the right shoes for my feet after years of discomfort.
When I moved to Barrington almost three years ago, I jokingly referred to it as the "Boulder of the East" in reference to the famed endurance Mecca that is Boulder, Co. And technically we have some solid claims within the triathlon space. From FuelBelt and TTBikeFit to Endurance Nation, we have quite the industry gathering.  But it's not the brands but the people behind them that make this community so awesome.
My run kicked off with Vinu Malik of FuelBelt…a 38 time Ironman finisher with 7 Kona finishes and a race resume that dates back to 1986. He was injured since our last long run and he gutted it out for 10 miles before coming back on his mountain bike for the last two loops. Epic.
We linked up with Lisbeth and Todd Kenyon of TTBikeFit on Lap two. They snuck out of a CompuTrainer session to get in a short run with me. And then they came BACK to run the final lap with me when I was seriously hurting. They put in 17 miles with me and to/from the route — their longest run since Lisbeth, a multiple Ironman AG world champion, raced in Kona last October!
I owe my biggest debt of gratitude to BJ Gumkowski who drove an hour from Newport to start the day with me. After promising to run with me on Twitter, he confessed during Lap One that he hadn't really been training for anything in particular! I can't imagine what he'll do when he does focus, because he put up 30 legit miles. I think the hardest lap was #7 when he threw in the towel…I was so used to his presence!
And there were several other folks who did a fly by, including Mark Searles, Ted Fischer, and Tom Meehan. Plus it was so nice out there was a ton of support out on the road itself!
The Execution
My plan was to not go out too fast, and given the multiple folks we had dropping in / checking out, the pace was perfect — just around 8:00 to 8:10/mile. Once things quieted down, we were able to dial in 24 really solid miles (from 12 to 36) that were almost all sub-8s. It wasn't really until the last z3 miles of the day that the fatigue really seemed to impact my ability to keep the pace up.
My legs held up really well. I did have to change my left sock twice due to hot spots, and had to wring out my skull cap as it was full of sweat. I really only had one misstep all day on a frost heave. My left adductor was starting to bark at me a bit towards the end, but it was very manageable.
I managed to average 7:59s across the whole day — sub 8 was the goal! — and my pacing was pretty smart according to the file on Strava.
If I were to change my plan moving forward, it would include some flavor of the following:
variety in drink flavors…too much orange
caffeinated food across the day instead of just coke at the final few pit stops.
way more lube…even minor chaffing quickly became a problem.
better dissemination of the RoadID tracker so others could follow / find me.
Again, Thanks!
A lot of people made this day possible, and I can't thank them all. But more importantly, we raised some money and awareness about the importance of potable water to the world. You can learn more about how you can help or give up your own birthday here: Charity:Water.