Ultimate Heat Beating Gear for Runners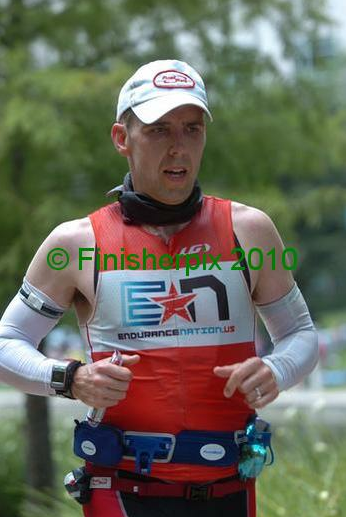 It doesn't matter where you live; some parts of your season are just way hotter than others. Sure, folks in Texas have to deal with three digit temperatures, but that doesn't mean folks in the NorthEast have it easy – our mid-90s with high humidity means that running here can be just as challenging.
There are several ways to mitigate the effect of heat on your long runs.
First and foremost is hydration; your body simply can't function at peak levels if you neglect the fluids.
Second is pacing, which I will cover in a future article (stay tuned!).
So that leaves the accessories; things you can use to reduce the effect of the heat on your body, and therefore your performance.
Here are my top three things to use when heading out in the heat; feel free to add your own product or concoction in the comments below, thanks!
Scape Sunblock
Online Here: http://scapelabs.com/
This was recommended to me prior to my most recent race in Kona at the Ironman World Championships. The sun there is brutal, both in regular form but also in the heat coming off of the road and lava rocks.
To give you an idea of what I mean, in 2011 the temperature of the surface of the blacktop in the "Energy Lab" on the run was recorded at 131 degrees Fahrenheit!
Since athletes spend five hours biking and then three hours running in full exposure to the sun, skin care is critical. After returning home with such a burn that my athlete numbers were visible on my shoulders well into March of the following year, I was on a mission to get better. Enter Scape Sunblock.
I find Scape to be both easy to apply but also fairly thick. In other words, you can tell when you are putting it on that it's going to live up to the "block" part of it's name. That said, it's very breathable. Some generic products are smothering, making the very act of swathing a challenge — this is not the case with Scape. I was pleased with it's performance in Hawaii last year and continue to be happy. Even in a recent Half Iron my sunblock never wore off despite the wetsuit swim and extreme sweat rate.
Our Running Plans Now Online at Endurance Nation!
UltraDistance | Marathon Plans | Half Marathon Plans | 10k Plans | 5k Plans
FuelBelt Trucker Hat
Online here: http://www.fuelbelt.com
I prefer this trucker hat style on my hot runs for several reasons.
First, it has a firm solid brim that will keep the sun out of my eyes and off my face where I feel the heat the most.
Second, the mesh "cap" keeps the sun off my scalp without wrapping my head snugly in fabric like most technical running hats.
Third, I can use the hat to hold ice if that's available, and if not I can get the hat wet to keep my head cool.
Finally, it's white color reflects a large portion of the sun's rays to keep me cool.
I am not sure what you prefer to wear on your head, but I assure you a good hat beats a visor every time. While this style of hat from FuelBelt might not be available any longer, you can find trucker hats almost anywhere!
Mission Athlete Care Cooling Towel
Online here: http://www.missionathletecare.com/products/enduracool-instant-cooling-towel-large
This was a last minute entry in my arsenal to manage the heat at Ironman Texas earlier this year. Had I opted to run the Boston Marathon I would have certainly benefitted as well.
The towel essentially functions by absorbing and holding water. The water initiates the towel's cooling properties, which are further activated when you wring it out and "snap" it. The result is a cooling sensation without the weight of a soaking wet towel on your body.
The additional bonus, however, is the fact that the towel has an SPF factor of 45 — better than most sunblock! — and can block the sun from critical areas of your body when running.  As you can see from the image headlining this post, I have the Cooling Towel wrapped around my neck. I would add water to it at each aid station to keep it cool.
While I can't point to one single thing allowing me to run a 3:15 marathon on a 90-degree day at the end of an Ironman, I can definitively say it was great to stay cool with ease at each aid station.
So what do you use to beat the heat? Please let us know by sharing in the comments below!!!