Why A Cancelled NYC Marathon Is Great For Your Marathon Goals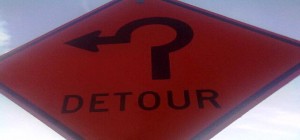 Finding out that your New York City Marathon dream had no chance of happening in 2012 was probably a crushing blow to the hours and months of training (and money!) you had invested in the day. And yet not racing the marathon could be one of the best things for your fitness and future performance. That's right, skipping the big day could be the catalyst for significant performance gains.
But before I dive in to that topic, know that all the runners lost when the NYC Marathon was cancelled pales in comparison to what those affected by Hurricane Sandy had to–and continue to–face on a daily basis. Lost lives, lost homes and a rapidly approaching winter with many still struggling to get access to fuel and electricity.
If you haven't already made some form of contribution or attempt to support those affected by Sandy, you can do so via the Treehugger website  which has a good list of several options.
Marathons Punch A Massive Hole In Your Season
Training and racing a marathon is an enormous mental, emotional and physical undertaking. There is the build up period of many weeks, where endurance fitness and running durability are build up incrementally to carefully avoid overuse injuries. Long runs of 20+ miles are balanced with lighter training weeks, excellent recovery and a commitment to proper pacing. But then the taper (usually three weeks), the race (a week) and the recovery (three to six weeks) punch a seven- to ten-week hole in your season.
Almost a full two and a half month window where there is no real training outside of the race itself. Given that we begin losing fitness almost as soon as we stop exercising, each additional day of zero or minimal exercise represents a missed opportunity in terms of your overarching running goals.
Your "Fake" Taper Means You Are Rested
But in training for the New York Marathon you not only did all the work — you also made time for recovery. So few of us set aside time to absorb the hard work of training without a race. As a coach, it's one of the biggest challenges I face: convincing athletes to focus on what they can absorb, not what they can do.
So while the last-minute cancellation undoubtedly means that you are frustrated, you can look on the bright side. You are actually fit, rested, and ready to move on to the next phase of your training without the required triage and recovery period.
Time For Another Boost of Speed this Winter
The winter is the perfect time to work on your speed. If you are like most NYC runners, you'll probably be looking to jump into one of the last fall marathons or half marathons left on the racing calendar. But I hope you'll reconsider.
Winter time means there are little demands for volume training. The weather isn't conducive to longer miles, daylight is at a minimum and there are literally tons of fun 5k events from Turkey Trots to Santa Sprints across the country. The winter was simply made for getting faster.
Most runners try to add speed within the overall build of their marathon training, but the demands for endurance mean that there is precious energy left to simultaneously build speed. Instead of trying to double down, build your fast first and then add far to it. This provides some variability in your training and will allow for improved fitness gains with a reduced risk of overtraining or over-reaching.
If you don't have a good sense of how to structure a speed training phase, be sure to check out one of our Get Fast training plans in the Marathon Nation Training Plan store.
Still Want To Race This Fall?
If racing just on your brain and your year won't be complete without hitting the wall on race day and earning another medal, then get to the Internet and start searching for a race. If possible, you'll want to find a race that is sooner rather than later, with an ideal date falling before December 15th.
This short window means you'll be able to resume training, perhaps even inserting a one or two longer runs in the 13- to 15-mile range. Your marathon-specific fitness won't desert you and you'll still be able to put your months of quality training to the test. Just don't forget that you'll need to recover afterwards!
Got Post Race Plans?
Whether you are racing in a make up event, taking time off, or none of the above, we wish you luck. We'd love to hear about your decision making process and your final call. Whatever you do, we wish you continued health and wellness!